What are Similarities between CBD and THC?
Are you one of the 147 million people who uses cannabis? What about the 1 in 3 non-consumers that are curious about trying cannabis and learning more about it?
Cannabis is no longer viewed as something for only hippies or rebellious teenagers. It's recognized by doctors, scientists, and people around the world as a medicinal and recreational plant. Not only can it be enjoyed safely, but it can also provide a number of benefits for both your mental and physical health.
The two compounds that provide these benefits are tetrahydrocannabinol, aka THC, and cannabidiol, aka CBD. In this post, we're going to go over the difference between CBD and THC along with some similarities, benefits, and effects.
Let's get started!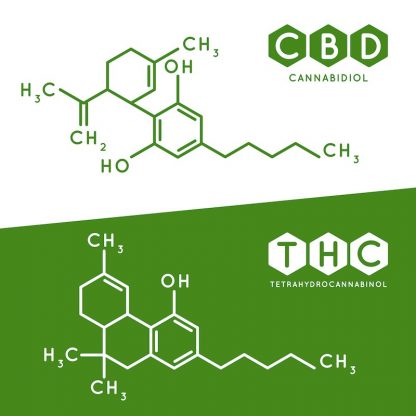 THC Effects & Benefits
THC is the main psychoactive compound in cannabis. That means that the typical feeling of feeling "high" (giggling, euphoria, feeling light, etc) is thanks to THC.
THC works by binding to specific receptors in the brain called cannabinoid receptors. This induces the brain to release dopamine, which is your "feel good" molecule. That's where the nickname for marijuana "dope" comes from: the literal dopamine boost that you get from the THC in the marijuana. This rush of feel good molecules leads to a few common effects of THC.
This includes:
Reduced anxiety
Reduced pain & inflammation
Feeling "high" or happy & euphoric
Feelings of happiness & relaxation
Heightened senses
Lowered inhibitions
Increased hunger & appetite
There are also potential negative effects of THC including anxiety, paranoia, dry mouth, and fatigue.
CBD Effects & Benefits
Unlike THC, CBD is non-psychoactive. This means that CBD doesn't make you feel "high" like THC does. Like THC, though, CBD also interacts with cannabinoid receptors that already exist in your brain and body. These effects vary from person to person, but some common effects include:
Reduced anxiety
Increased feelings of calm & relaxation
Fewer & less intense seizures
Reduced pain & inflammation
Lessened feelings of depression
Neuroprotective properties
CBD has been extensively studied by scientists and researchers have found some amazing benefits.
Similarities Between CBD and THC 
Besides the obvious similarity that they're both naturally found in cannabis, on a structural level, they're also very similar. THC and CBD have the exact same chemical formula: C21H30O2. It's only the slight difference in the organization of these atoms that makes them interact with your cannabinoid receptors in two completely different ways. Another similarity is that they both can lead to similar effects. Lowered anxiety, increased hunger, decreased stomach problems, lessened feelings of depression, and reduced pain are all effects people feel from both of these compounds.
Differences Between CBD and THC
The biggest difference between the two is that THC is psychoactive and CBD is non-psychoactive. This impacts the compounds in a few ways.
First, the effects. THC is what makes you feel "high". If you took a CBD concentrate or oil, you wouldn't "get high" in the traditional sense. You would likely get the benefits of CBD (lowered anxiety, reduced inflammation, etc), but you wouldn't feel high or euphoric. You'll only get those feelings from THC. These effects, in turn, affect their legality. The United States' laws regarding cannabis and cannabis products are changing constantly. Currently, under federal law, marijuana and THC specifically are controlled & illegal substances. However, many states have legalized all types of marijuana for medical use, and more still have legalized marijuana for recreational use, like Massachusetts, California, Maine, and others.
CBD, on the other hand, is federally legal as long as the product contains 0.3 percent or less of THC. This could be CBD flower, oils, tinctures, salves, lotion, etc. Strains with this low THC have been genetically engineered and bred to have low THC and high CBD concentrations. Because of the ambiguous nature of laws in the United States, it's important to do your own research on your state's laws and regulations.
Want to Learn More?
There's so much more to learn about the similarities and differences between THC and CBD. From implications in chronic disease to new recreational options for all ages, cannabis is becoming mainstream in a great way. You can learn more about the mental and physical benefits of CBD, THC, and more on our blog. You can also contact us to learn more, ask questions, or start a discussion.
CBD (cannabidiol) & THC – FAQ